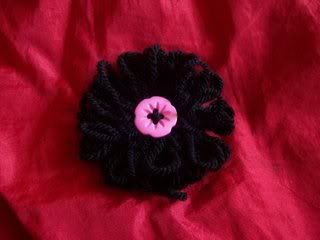 firstly i won this pretty wool flower brooch
from Dria
http://driasdelights.blogspot.com
she is making some pretty funky sock monkeys at the moment
they are very cute!
******
and then i won this St.Patrick's day giveawy from
MATERSUM
she has a shop on etsy
http://www.etsy.com?shop.php?user_id=88235
thanks to Vonnie for pointing me in the direction of this giveaway!!
and even pretty!
I found it quite amusing gauging people's response to the pad
my Mum said "eurgh i remember my Mother telling me they had to use rags"
my daughter was much more open minded and interested in the concept
i guess it's a generational thing -
i'm in the middle - a bit "eurgh" and a bit "ooohh"
we shall see!
*******
thanks again to Dria and Matersum
it's always nice to get a present - especially through the post!